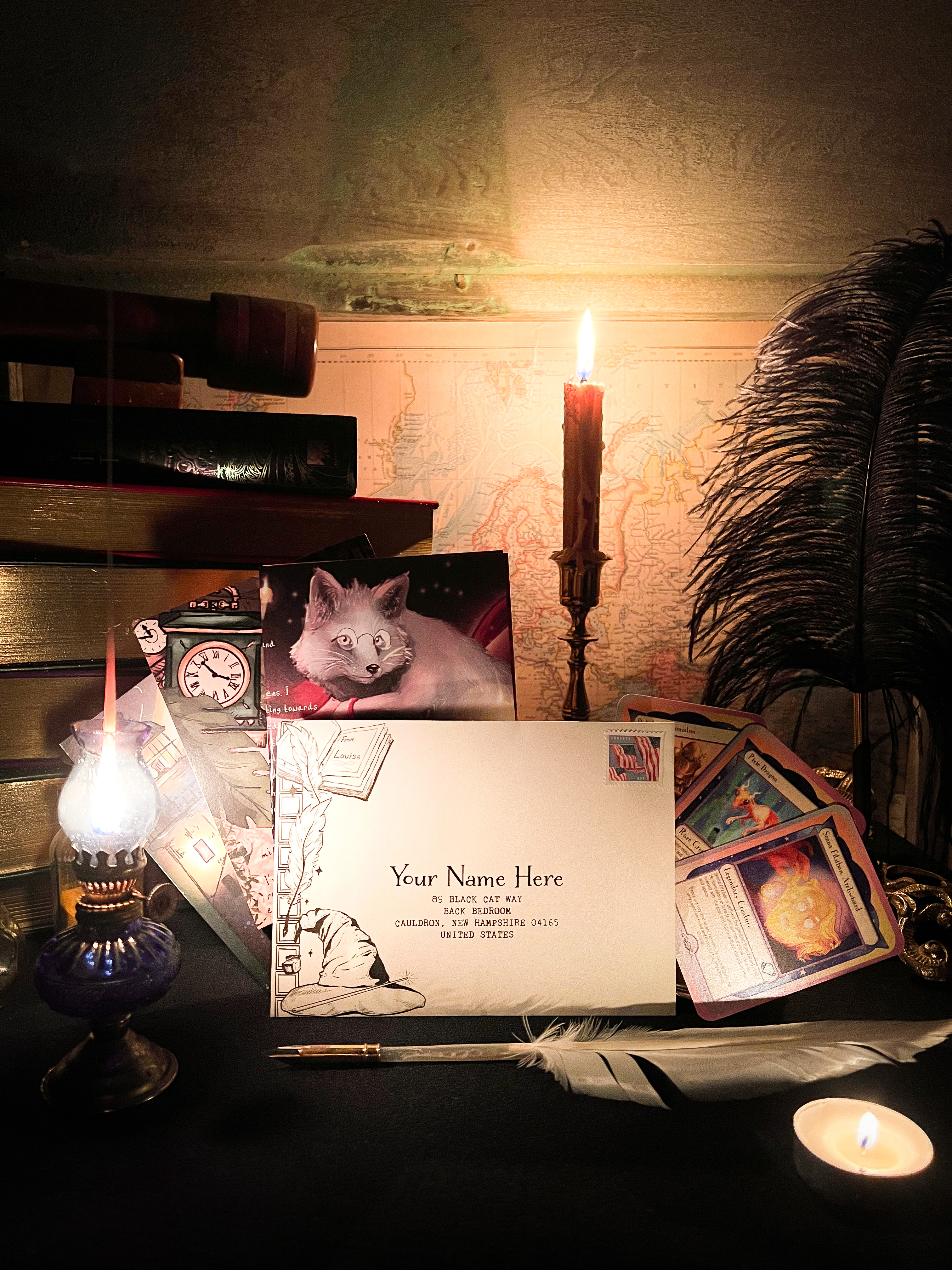 Do you love magic? The amazing beasts, impossible potions, and hidden-away places?
Welcome to Charm Post, the enchanting tale of a witch exploring the world's wonders. Each month, Louise ventures into the unknown to brave the world of magic, facing extraordinary beasts, eccentric characters, and enchanting places. The best part? She wants to write you a letter all about it. You'll be whisked away on an unforgettable storybook journey through vibrant illustrations, collectible trading cards, and mesmerizing storytelling. 
Fulfill your curiosity and wanderlust by reading about the world's most magical places and beings. You'll discover dragons in the mountains of rural China, swim alongside merfolk in the mysterious waters of the Bermuda Triangle, board enchanted trains in search of falling stars, and navigate hidden Tibetan monasteries... all from the comfort of your home.
Charm Post is a unique and delightful way to broaden your imagination and satisfy the need for magic in your life. Join thousands of enchanted subscribers worldwide and get ready to discover magic in your mailbox. 
Enjoyed by all ages.
In a time with so many digital distractions, it can be easy to oversee the little magics of day-to-day life: birds gathering fluff for their nests, dewdrops on freshly bloomed flowers, the curl of steam coming off a fresh cup of tea. Charm Post is for lovers of magic...from potions and spells to the little magics of daily life, especially the magic of receiving a letter in the mail. Whether you're charmed by the stories of far-off places and mythical beasts or by descriptions of witch's tea and bubbling cauldrons, the feeling of a letter in your hands is undeniably magical. We can't all be witches and wizards, but you can bring a little magic right to your mailbox.
What Subscribers are Saying
/** * @var $module \Ucraft\Module */ ?>
Olivia A. - Florida, USA

I subbed for myself and i LOVE it. I'm really into witchy stuff and this like fits my aesthetic, I hang the letters with clips on my wall

Sue P. - Toronto, CA

I got this for my granddaughter since we live far apart. She calls me every month to read me her new letter. I'm so happy to see her so excited.

Jamie H. - Painswick, UK

I'm just glad it's not an iPad my kids are freaking out over!

Hillary O. - Texas, USA

WOW!! We're big Harry Potter fans in this house, and Charm Post just sends sparks through us every time it arrives. So magical, so beautiful, 10/10 recommended.

Aiya T. - Yokohama, Japan

So charming. Pretty and magical.
Choose between a monthly, 6-month, or yearly subscription, and start your enchanting adventure today.